Ingenuity Breakfast Event
Join us for this Ingenuity breakfast networking event, where speakers Dr John Marks from the University of Nottingham's School of Cultures, Languages and Area Studies and Kris Plumley, MD of ClearFirst Services Ltd will be exploring why finding (and offering to others) meaning in our work is so important. In an age of increasing pressure to present a resilient, functional, high-performing version of ourselves, we can end up feeling ever more isolated and disengaged. John and Kris will be examining the pitfalls of this approach to work and asking the question, "As business leaders, what if we did things differently?"
More information to follow soon…
Our speakers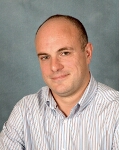 Dr John Marks
Associate Professor, Faculty of Arts
Kris Plumley
MD, ClearFirst Services Ltd
The programme
07:45 – 08:10       Registration, breakfast and networking
08:10 – 08:15       Welcome and introductions
08:15 – 09:00       Keynote
09:00 – 09:10       Q&A
09:10 – 09:30       The Shop Window
09:30…                  Networking – for those that want to stay on
State Aid
This event is part-funded by the European Regional Development Fund 2014-2020 and is part of the Enabling Innovation Programme. This event is classed as State Aid to participating businesses, the value of which is £100, but is delivered completely free of charge to participants.
The 'Shop Window'
The Shop Window is your chance to take the floor to make a brief presentation to the room about something you are looking for help with.
From the University? If you have a business-facing project or want to work with local small and medium-sized businesses as part of your research, this is your opportunity to make contact with business owners. Our network members are already interested in what happens at the University and may be interested in participating with your initiative.
From a business? Sorry, but the Shop Window isn't the time for a "60 second pitch". Feedback from our network members tells us that our businesses want something different from Ingenuity. But it is your opportunity to do some research of your own: request volunteers for new product or service trials, ask if anyone has any recommendations for difficult-to-find suppliers, or simply share some news that the audience might not find out about otherwise.
If you would like to participate in the Shop Window just drop us a line.
The venue
Sir Colin Campbell Building, Triumph Road, Nottingham, NG7 2TU
To register
Please complete the following form…